Grow with the Tax Resolution Marketing Toolbox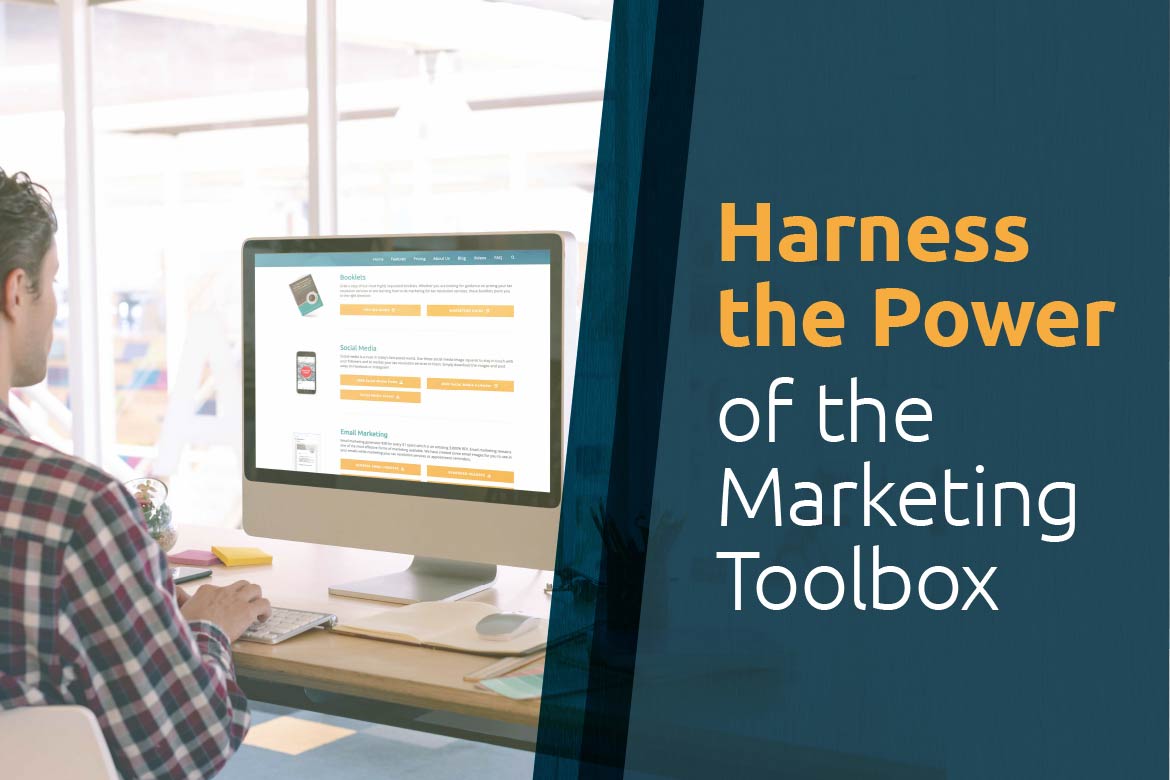 Expanding your practice to offer tax resolution services is an exceptional way to bring in a new wave of clients and better serve your existing customer base. It also comes with the responsibility of getting the word out, and advertising yourself and marketing your new services might seem intimidating.
Don't stress. That's exactly why IRS Solutions™ created our Marketing Toolbox. As a member, you not only get access to our easy-to-use software, educational webinars, and expert consultants, but we also help you build your business. We are here for you, committed to being a partner in your success.
Below you can get a glimpse of just some of the incredible resources that can be found in our members-only Marketing Toolbox.
Social Media
On average, people (including your potential clients) spend two hours or more on social media every day. We help you take advantage of that with a set of tools to simplify the task of keeping up a professional social media presence. Your toolbox comes with a posting calendar that also provides tips for social media best practices. We've done all the legwork for you, providing post images and engaging content, as well as a suggested date to make each post.
You can copy and paste the text caption, upload the corresponding graphic from the ZIP file we provide, and even schedule out your posts for the month – all in just a few minutes.
Email Marketing
Email is one of the most cost-efficient ways to market your business, and the IRS Solutions Marketing Toolbox provides everything you need to make your inbox work for you. Use our templates to capture your clients' attention with email headers and pre-written marketing copy, then keep that branding up with our professional appointment reminders.
Printed Materials
The most powerful form of marketing will always be word-of-mouth. That's why your toolbox includes printed materials, such as a template for a referral coupon that you can include when you mail out your invoices each month. Not only does the coupon remind your existing clients that you're offering tax resolution services, but it encourages them to recommend your services to their friends who need help.
Checklists
In order to make the best first impression possible, we've created a handy tax appointment checklist that ensures your client comes prepared for your meeting. Saving you and your clients time and hassle will ensure that they walk in with everything you'll need in order to help them, and leave with confidence, ready to refer you to their friends and family in the future.
Informational Booklets
Members also get instant access to our Pricing Guide which helps you create a menu of your services and gives you an idea of what to charge and what the market will bear. You also have access to our Marketing Guide, filled with tips and examples of how to get the word out about your new services to the people who need them.
The IRS Solutions Support System
IRS Solutions provides more than accounting software. With your membership, you get a partner who cares about your business. We not only provide the training and tools to help you advocate for your clients, but also provide attentive customer service and a guiding hand to position you for success. We encourage all members to sign up for our FREE CPE credit courses, join our members-only Facebook group, and tune in for informative Case Study Webinars. We are committed to your success and ready to assist you in every way we can.
Not Sure How to Charge for Tax Resolution Services?
Grab a copy of our FREE Tax Resolution Pricing Guide today. Plus, get expert articles and updates that contain valuable info for tax pros sent straight to your inbox. Sign up below.