How to Grow Your Practice with Tax Resolution Services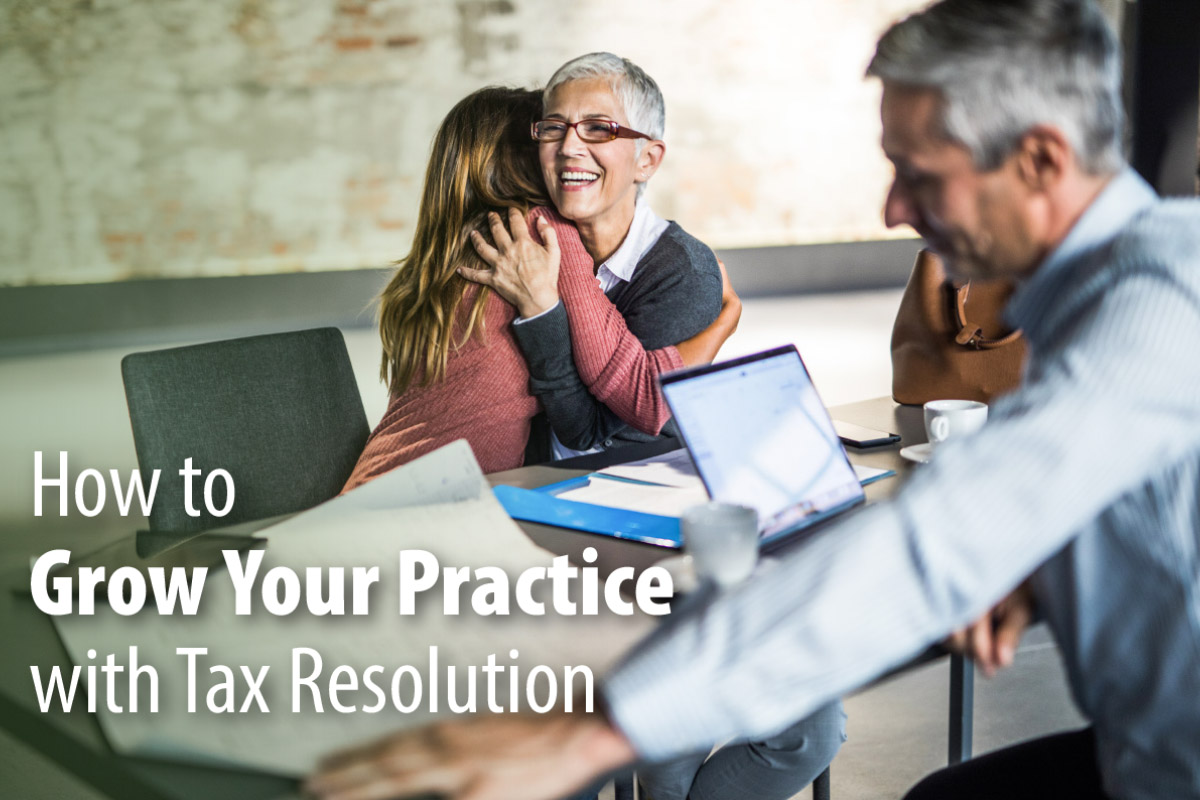 Without repeating the cliché about death and taxes, it's safe to say that taxes will always be a part of American life. And while you're already helping your clients to file their returns, if you're not offering tax resolution services, you're missing out on an amazing opportunity to grow your accounting practice. More importantly, as IRS enforcement gets tougher every year due to technological advances, your tax help could be what stands between your client and bankruptcy or jail.
Add Value to Your Practice
Offering tax resolution services is a great way to expand your portfolio and increase the work you do in the off-season. In addition to standard tax help, you can become a Tax Resolution Specialist, someone who helps clients resolve back taxes, offers tax audit help and guides clients in how to settle with the IRS so that they can once again see light at the end of the tunnel.
That might seem like a lot to add to your workload, but tax resolution is more valuable than other services, meaning you can earn more by taking on fewer tasks. One IRS Solutions client recently reported increasing his representation revenues by over 50% while cutting down the time spent on his projects by almost 30%. Not only can you make more money, but with tax resolution, you have the opportunity to help your clients and truly make a difference in their future.
Marketing Tax Resolution Services
You've probably realized by now that it's a lot cheaper to market to your current client base than to a new client base. If you're referring your clients away for tax resolution services, not only are you losing income, but it's possible you'll lose clients to an office that offers an all-in-one accounting experience.
The reverse is also true. Once you decide to offer help with IRS issues, clients will be excited to spread the word. By offering these services, not only are you growing your business, but you're also becoming a better advocate for your clients—scared clients who feel helpless when facing down the might of a government bureaucracy like the IRS.
How IRS Solutions Can Help
You might have been feeling intimidated too, and that's exactly why we created IRS Solutions Software – with the very purpose of distilling all of the IRS complexities down to simple tasks. We offer free monthly webinars and personalized customer support from former IRS professionals. Our accounting software not only helps you interpret what IRS notices mean but also provides steps on how to best address the issues and formulate your replies, all while automatically populating the forms you need with the appropriate data.
IRS Solutions is available in affordable monthly and annual subscriptions so you can serve your clients year-round by providing tax resolution services with confidence. Not only is IRS Solutions the most user-friendly software on the market, but your membership comes with a wealth of valuable resources. Tune into our monthly webinars where we walk you through solving actual IRS cases, consult our Pricing Guide for advice on how to charge for your services, and take advantage of our extensive Marketing Toolbox, complete with ready-made social media posts, templated emails, and more to help you get the word out.
But we think you should be the judge. Try IRS Solutions Software for yourself and let us know if it enabled you to help more clients, feel more fulfilled in your career, and increase revenue for your practice. We're here for you every step of the way.
Not Sure How to Charge for Tax Resolution Services?
Grab a copy of our FREE Tax Resolution Pricing Guide today. Plus, get expert articles and updates that contain valuable info for tax pros sent straight to your inbox. Sign up below.