IRS Marketing Toolbox for Rapid Tax Resolution Growth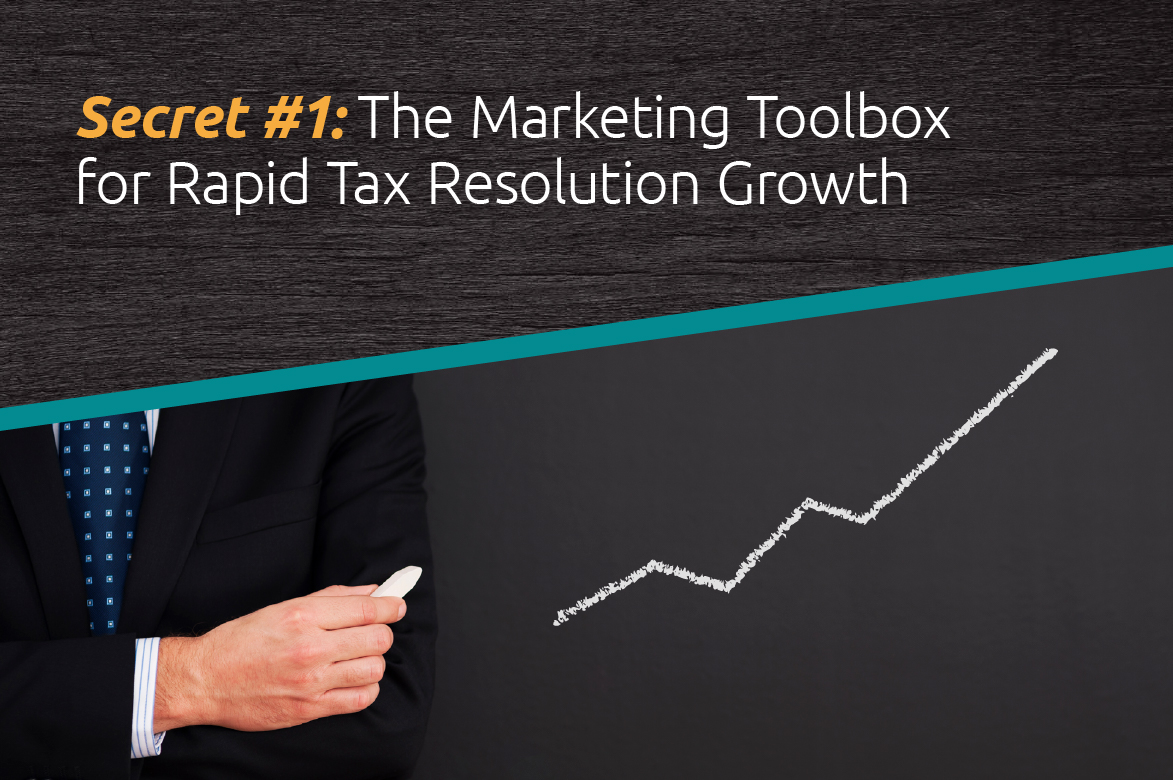 After a tax season like the last, you deserve a serious vacation…like a '3 weeks in Cabo in a hammock' type of vacation. But when you get back to your desk, shake the sand out of your socks because we've got a proposition for you. Expanding your practice to include tax resolution would not only allow you to help more clients and feel better about your job, but it would also enable you to take that dream vacation every single year. Becoming a tax resolution specialist allows you to work far less and make far more…and we have the secret to mastering rapid growth for your practice.
"You can do ten tax returns and make an average of $5,000 a month or help just one grateful tax resolution customer and spend less time while still making the same money."

— David Stone
Navigating Unfamiliar Territory
At IRS Solutions Software, we've compiled all the tools you need to transition from Tax Preparer to Tax Resolution Specialist quickly and easily. From Notice Response Tools to turnkey transcript reports, to our OIC calculator, Direct POA uploads, rapid transcript retrievals and more, we make sure you have everything you need to succeed. But today, we're focusing on our best kept secret amongst members: The Marketing Toolbox.
Pre-Made Promotional Materials
When you're learning a new skill, you don't necessarily have the time or the confidence to tackle marketing at the same time. That's why IRS Solutions Software created the Marketing Toolbox. Our ready-made marketing materials make it so easy to promote your tax resolution services to new and existing clients. Never stress about creating a social media post, writing a networking letter, or designing professional email graphics again. We've got you covered from A-Z so you can bring in a steady stream of profitable clientele all year round. The best news is, you get to take advantage of these features included in your software membership so you can start increasing your gains right from the get go!
Take a peek at some member-favorites included in the Marketing Toolbox:
What's Included: Social Media Posts
Why It's Important: If you aren't taking advantage of social media advertising yet then you're missing out on lucrative business opportunities. In fact, many of our members report gaining two or three new clients in just the first month of using the social posts we provide in our Marketing Toolbox. That's $10,000 to $15,000 in revenue you may be missing out on. We give you tax deadline reminders, holiday greetings, and promotional graphics for your tax resolution practice – captions and hashtags included!
What's Included: Social Content Calendar
Why It's Important: Life moves quickly and when you're running a business, it's next to impossible to keep up with holidays and seasonal promotions. Our Social Content Calendar ensures that your social media profile is always ahead of the curve. Spend an hour or two a month and schedule your posts ahead of time. We tell you what to post and when—taking all the stress out of maintaining a professional social media presence.
What's Included: Social Media Profile Covers
Why It's Important: Your Facebook and LinkedIn cover and banner images are the first thing a client or lead sees when they come to your profile. Make a good first impression with professionally designed graphics that immediately position you as an authority in the tax resolution business. Simply upload our premade cover and banner images to your profile and you're good as gold.
What's Included: The Marketing Workbook
Why It's Important: When was the last time that you stepped back and wondered who your ideal client was or what services you wanted to offer? Asking yourself these key questions can help you better understand how to grow your business to better suit the needs of your ideal clients while improving your own happiness in your career. Our Marketing Workbook walks you through building customer personas and tailoring your marketing to your unique audience. This is a valuable resource that will help you to understand how to connect with the clients you really want to work with.
What's Included: Email Graphics
Why It's Important: Email generates $38 for every $1 spent, which is an astounding 3,800% ROI, making it one of the most effective marketing channels available. Include our eye catching banner images in newsletters and e-blasts to remind your mailing list that you now offer tax resolution services.
What's Included: Bankruptcy Attorney Networking Letter
Why It's Important: Bankruptcy attorneys make highly lucrative partners. As a Resolution specialist, you may need a bankruptcy attorney to refer your client to but more so a bankruptcy attorney will need an accountant to refer to for various needs whether it is for preparing back tax returns or analyzing tax debts to determine if the balances due are dischargeable. Our members are amazed by the symbiotica. Use our Bankruptcy Attorney Letter to network with local bankruptcy attorneys and let them know you are here to help.
Pro-Tip: Our bankruptcy module has tools that let you know when taxes are dischargeable. This information is worth a fortune to bankruptcy attorneys who will pay $1000 or more just to have it printed out. Become a member and start capitalizing on lucrative opportunities to become the go-to tax pro for bankruptcy attorneys in your area!
What's Included: My Services Letter
Why It's Important: When you're first starting out in tax resolution, you will need to spread the word that you're expanding your service offerings. And even once you've clearly established yourself as a Tax Resolution Specialist, you will be astounded by the number of your clients who still aren't aware of everything you can do for them beyond tax preparation. We make it easy to remind clients and leads of the many services you offer with our My Services Letter. Simply customize with your own logo and contact information and send via post or email to educate taxpayers and grow your clients into more profitable customers.
Pro Tip: Consider adding the My Services letter to envelopes when you send out invoices for returns!
What's Included: Invoice Stuffer Referral Coupon
Why It's Important: Everyone loves a good deal and every tax pro loves a referral. IRS Solutions' Marketing Toolbox helps you to grow your network with easy-to-customize referral coupons you can print and distribute or send out with invoices.
Pro Tip: We recommend utilizing these coupons at strategic times every year to touch base with all your satisfied clients.
What's Included: The Pricing Guide
Why It's Important: "How do I price my services" is one of the most commonly asked questions we receive, so it's no surprise that our Pricing Guide continues to be the most popular resource among members. Understanding the value behind your tax resolution services will help you quote with confidence and get a better understanding of typical rates so you never sell yourself short. Use this guide to set pricing for your new and repeat services.
"Every tax resolution job is different. Until you just jump in and do it, you'll always just be sitting out there being afraid." — Drew Foster
We know that tax resolution might seem intimidating, but with our expert team and the premade promotional materials included in our Marketing Toolbox, you'll be off to a running start. All of our resources are white labeled so every letter, email, and social post always looks like it comes directly from you. Join the IRS Solutions family to take advantage of our step-by-step software, the invaluable Marketing Toolbox, FREE CPE classes, our members-only Facebook group, and expert guidance from former IRS employees. Become a member today and discover your ideal clients and the earnings that come with them.
Not Sure How to Charge for Tax Resolution Services?
Grab a copy of our FREE Tax Resolution Pricing Guide today. Plus, get expert articles and updates that contain valuable info for tax pros sent straight to your inbox. Sign up below.