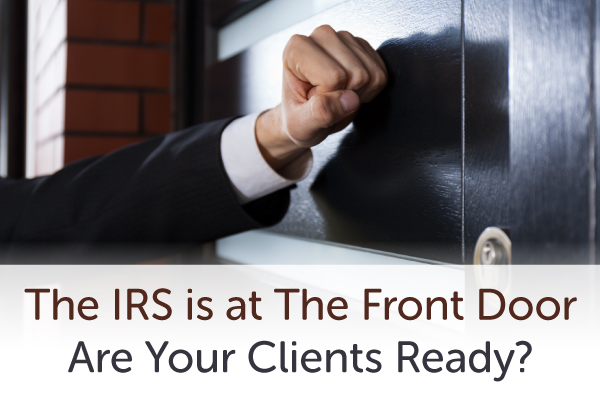 Are your clients ready for the inevitable IRS Notices stuffed in their mailboxes? Along with notices for delinquent tax bills, there may be liens, levies or worse. The IRS is working hard to collect what's owed them and taxpayers are finding themselves inundated with notices and letters, encouraging them to take action.
This is nothing new. The IRS is just making sure they are dealing with delinquency issues more frequently. The question is, are YOU prepared to help? If you're not sure you are prepared to answer questions and ease the concerns of your clients, you might risk losing them. Keep reading. We have solutions for you.
We've made it our job at IRS Solutions to see to it that YOU are prepared for anything and everything having to do with IRS dealings. You no longer have to avoid them. No more time-sucks. Our step-by-step program allows you to service your clients with a couple clicks; saving energy and hours of valuable time. It doesn't matter what letters or notices pop up, we teach you how to quickly identify them and rectify the situation.
Be Prepared
The walkthrough guidance you receive as a member of IRS Solutions is a huge benefit to you and your business. One of the most popular features the freedom that comes with it. Using our system is so easy that most tax pros choose to have their admins use our software for tasks; freeing the tax pros to build their businesses. It'll do the same for you.
Save Money
You'll save money while earning additional income because you'll need less staff inside the office. We Deliver a completely turn-key solution by providing Training Resources / E-Books / Webinars / Case Studies and Critical Legal Updates/Articles at your fingertips. You can actually get telephone support from an IRS insider. Now that's support you can trust. We'll give you immediate answers to your questions and time-saving solutions.
Educate Yourself
Our ongoing education keeps you abreast of changes to the code and opportunities to grow your business. We're all about efficiency. As a tax pro, you are your own brand. The faster you can solve problems, the more satisfied your clients will be. You'll not only secure their business for the future but satisfied clients love to offer referrals.
IRS Solutions offers more than just a transcript software. We are an ongoing resource you can rely on. In today's highly competitive market, we'll help you rise above. Grab our FREE Pricing Guide and let's get started.