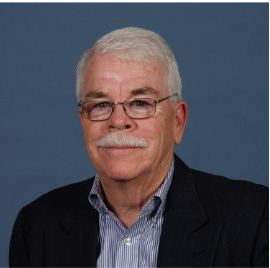 Solo Practitioner Thrives with Virtual and Live Support from IRS Solutions
Mike Repoli, CPA
The Company
Mike Repoli is a CPA whose career in accounting and financial services spans nearly 60 years. After spending four decades doing corporate work in the northeast, he moved to Florida and opened a one-man private practice. He became part of his local business community, joining the Board at the Florida chapter of the National Association of Tax Professionals. Initially, Mike's work was focused on tax preparation, but he quickly discovered that tax resolution was more professionally and personally satisfying. He now specializes in providing these services to a narrower, higher-need client roster and works with local law firms to assist clients in managing the tax debts associated with bankruptcies.

"Using IRS Solutions is like having a partner. It really is."
-Mike Repoli, CPA
The Challenge
When Mike began offering tax resolution services, he had no alternative but to allocate a significant chunk of his time to searching the IRS website for the needed forms. Once he'd found them, more time was required to enter the necessary data to prepare them for submission manually. He found it difficult to access information about IRS allowances for various geographical areas. This was further complicated in cases where Mike knew he'd need to justify additional costs related to unavoidable expenses, such as the care of a disabled family member. These low-level tasks were distracting Mike and keeping him from more profitable endeavors. Then, after making his calculations, Mike felt hamstrung as he tried to recommend actions to clients and move their accounts toward an Offer In Compromise (OIC) or Currently Not Collectible (CNC) status. Before Mike moved to Florida, he would bounce ideas off his three partners and get their input when working with clients. On his own and lacking a partner with whom he could creatively collaborate, Mike wanted to feel more confident in his client recommendations.
By 2016, Mike knew he couldn't do it on his own anymore. He looked for answers at a professional conference. First, he visited the vendor hall and stopped by the booth of a well-known software company. Their rep doggedly pursued Mike's business and tried to sign him up on the spot but lacked interest in establishing the relationship that Mike sought and even balked at offering a demo. Mike was unimpressed but didn't know where to turn for help. Thanks to a colleague's recommendation, Mike quickly became a member of the IRS community.

The Solution
"IRS Solutions is like having a partner. It really is."
With the powerful IRS Solutions software at his fingertips, Mike found the support his practice needed. Access to the IRS Solutions fillable form library immediately became a critical feature for him. He stopped searching for forms and said goodbye to entering numbers by hand. Even better, Mike was no longer struggling to make recommendations to his tax resolution clients on his own. He says, "Once the forms are filled out, I know the software will give me options and suggestions on what to do. If the taxpayer's expenses are higher than their income, I'll put them into a Currently Not Collectable status, which I do with a lot of my clients. I might consider an installment agreement because a client has some income, or an Offer In Compromise because they have no assets and no income. It all depends on the facts and circumstances of the client. The software gives me options and suggestions on what to do in each case." Thanks to IRS Solutions, Mike saved one client a half million dollars in back taxes. "Was he happy? Oh, yeah," Mike laughs, "He was happy."
The IRS Solutions Marketing Toolkit products have also been particularly valuable to Mike's practice. "They're always coming up with new ideas on how to advertise, how to get clients, how much to charge, what to use for an engagement letter," he says. "When my clients see my finished product, and I give it to them to sign, they're impressed. It shows them that I know what I'm doing."
Mike still works independently, but he's not alone anymore. He gets client recommendations from the software, but he also appreciates working with a company that values relationships with its clients. Mike is also a member of the IRS Solutions Facebook group, where he periodically posts questions and gets answers from his peers and from the IRS Solutions principals.

"The team at IRS Solutions is really helpful. You can reach out to them for support. They'll talk to you and walk you through the answer to your question."

- Mike Repoli, CPA
The Result
Since focusing on tax resolution and partnering with IRS Solutions, Mike Repoli has been able to earn more in fewer hours. Not only is his work enjoyable, but he also reports that "It's a lot more profitable than doing corporate tax returns and estate tax returns." When asked how his professional life would change if he had to give up his IRS Solutions membership, Mike's answer is simple and straightforward: "It would be impossible," he says. "I wouldn't do it."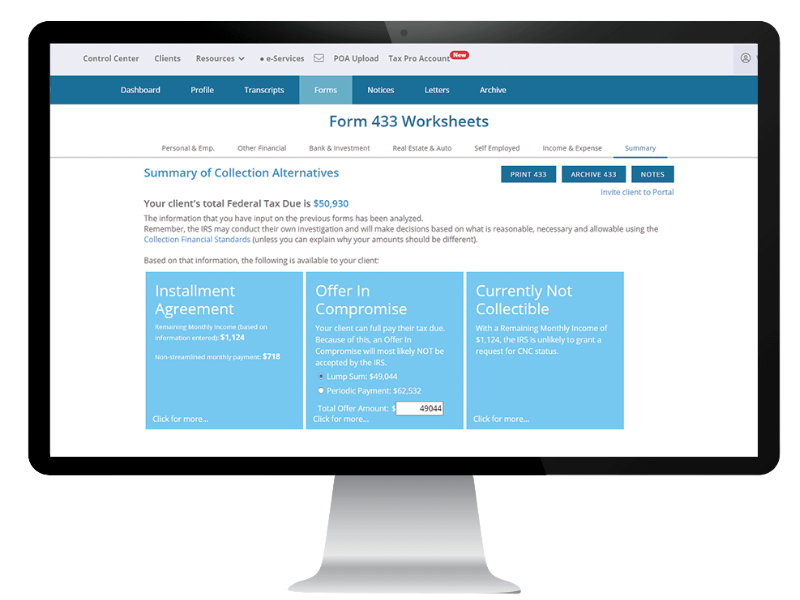 Ready to grow your tax business?

From intuitive automation to white-glove customer support, we created IRS Solutions to help Tax Pros get started with their tax resolution practice FAST.
Enjoy year round revenue

Lightning-fast transcript delivery and analysis

Branded Client Portal

IRS Notice Response Templates

Case Analysis with resolutions acceptable to the IRS (OIC, IA, CNC)

Engage with our exclusive tax community and educational resources

"Having IRS Solutions at my side has increased my representation revenues by over 50% while cutting down the time spent on such projects by almost 30%. Thanks IRS Solutions you're the best."
Raymond Sawyer, EA, CTC
Sawyer One Stop Accounting & Tax