Are Retired Clients Paying Enough? IRS Retirement Income Tax Calculator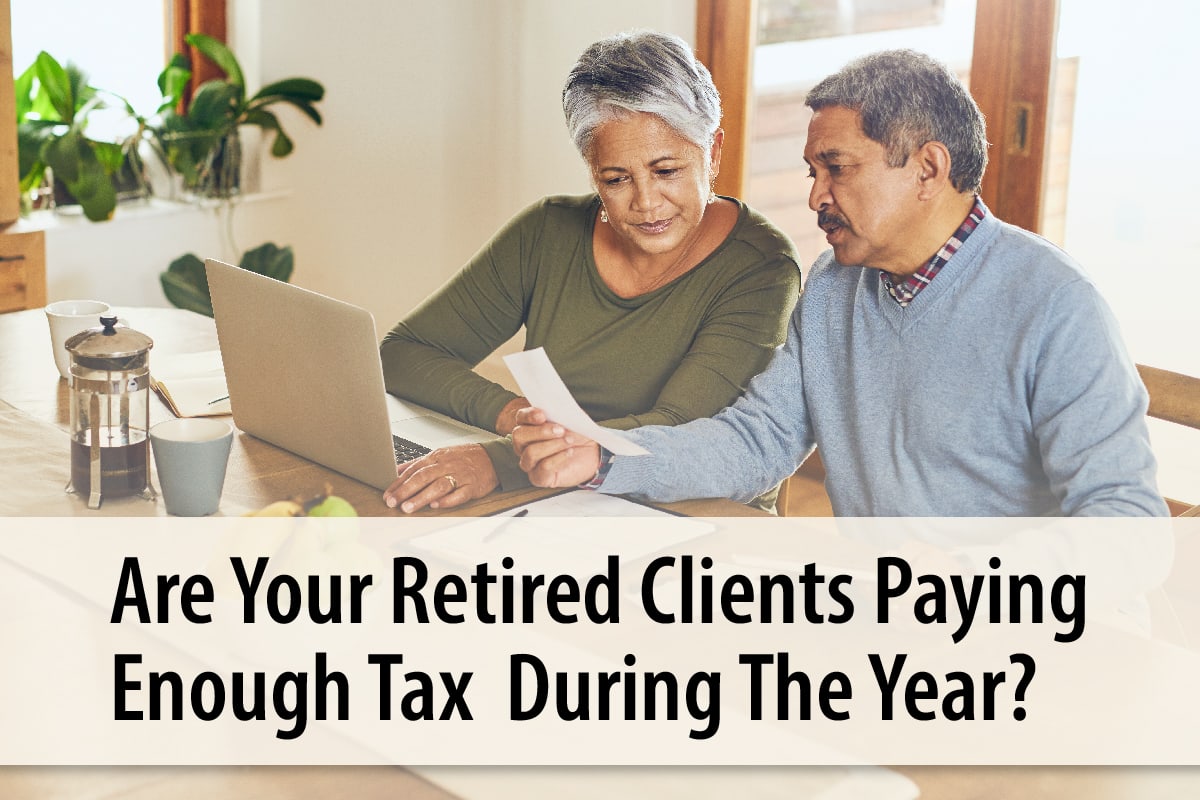 Are your retired clients paying enough tax during the year? If not they might end up with a big (and not so nice) surprise next tax season.
Tax Reform
Tax reform is bringing huge changes for the year ahead, and the IRS gave a recent "shout out" to retirees, stressing the importance of making sure they are paying in enough tax during the year. Advise your clients to check their tax situation as early as possible this year.
The Tax Cuts and Jobs Act, enacted in December 2017, changed the way tax is calculated for most taxpayers including retirees. DYI-ers can either use the IRS Withholding Calculator or they can give you a call to handle it for them. It's critical that everyone pay the right amount of tax to avoid an estimated tax penalty.
Tax rates and brackets are affected by the tax law changes, as is the increased standard deduction. The new IRS tax law changes removed personal exemptions and limited or discontinued certain deductions. Because of this, many taxpayers—including retirees—may need to raise or lower the amount of tax they pay.
If your clients include retirees who receive a monthly pension or annuity check, the changes may mean modifying the amount of federal income tax they have withheld. What's the easiest way to do that?
The IRS says the easiest way to do that is to use the Withholding Calculator on their site.
Talk to Your Clients
Advise your clients to use the online calculator to estimate their total income, deductions and tax credits for 2018. There are step-by-step instructions for doing so.
Change is not always easy, especially when it comes to IRS requirements. Since some retirees may require handholding during this process, it's your job to help them understand so stress is minimal. Be sure to inform them that they should treat their pensions like income from a job.
The biggest concern many of your clients will have is security. To protect taxpayer privacy, the Withholding Calculator does not request any personally identifiable information such as name, Social Security number, address or bank account numbers. Also, the IRS does not save or record any of the information entered on the calculator.
In light of all these changes from the IRS, your tax pro plate is probably pretty full this year. There's no need to stress that you might overlook something. That's what IRS Solutions Software is here for.
HOW WE CAN HELP:
Members Only Benefits
IRS Solutions Software gives you the confidence to provide services you may have been uncomfortable with in the past. Another benefit of membership is the training you get on our monthly case study calls.
Don't Miss Out! Sign up with IRS Solutions Software and Gain Access to These Informative Monthly Case Study Webinars on the 4th Thursday of Every Month at 10am-11am PDT.
By making sure your retired clients understand the new laws and are paying enough tax during the year you'll both avoid a big surprise when you least need it next tax season.
Ready to learn more? For starters, please pick up our FREE PRICING GUIDE. Act now so you're ready when your clients owe tax this year.
Not Sure How to Charge for Tax Resolution Services?
Grab a copy of our FREE Tax Resolution Pricing Guide today. Plus, get expert articles and updates that contain valuable info for tax pros sent straight to your inbox. Sign up below.