A Case Study of a Hurricane Tax Extension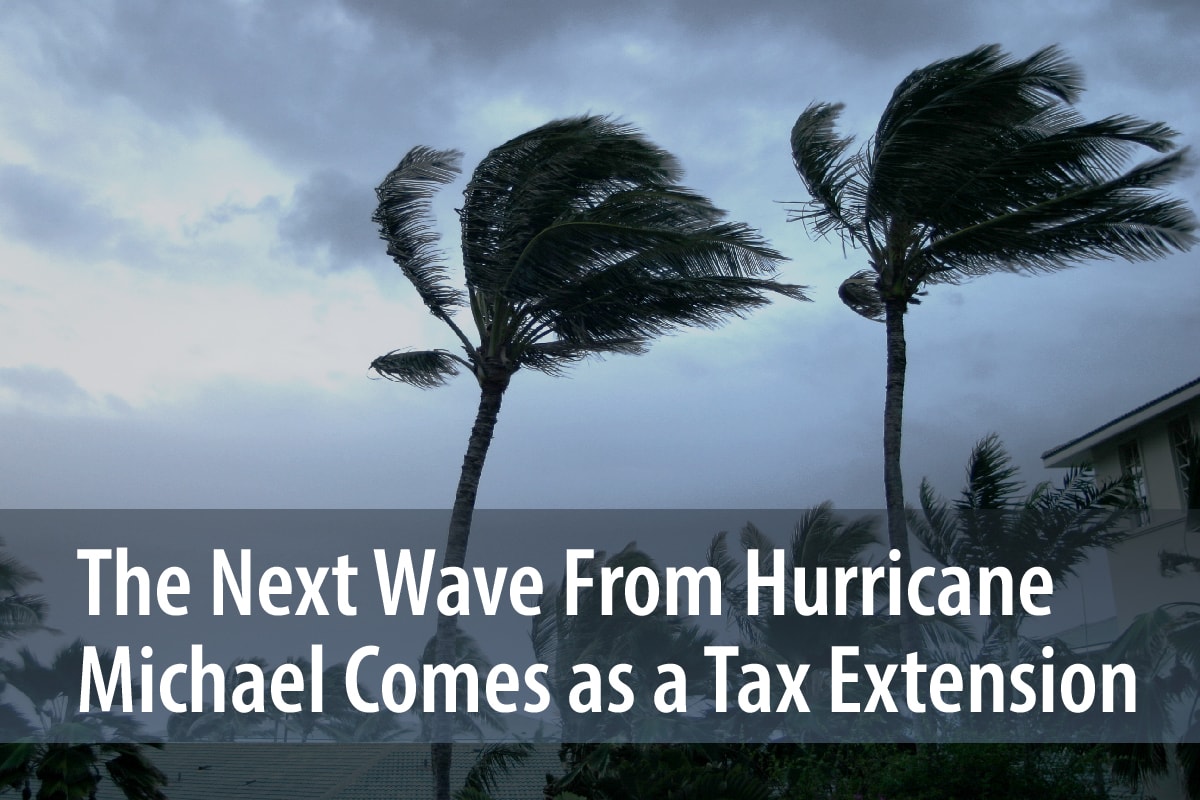 Taxpayers who were victims of Hurricane Michael are breathing sighs of relief right now, as they have one less thing to worry about. The IRS announced its decision to offer a reprieve to the 16 Florida counties that FEMA declared a major disaster because of Hurricane Michael. In the wake of the destruction, the Internal Revenue Service is offering Floridians relief in the form of a tax extension.
This month the Eastern US was barely beginning its recovery from Hurricane Florence. Then, with just a few days warning, Hurricane Michael roared up from Central America, plowing through the Florida panhandle. From there it moved on up the US coast into areas where floods were still receding from the last blow to the area.
Michael was the strongest hurricane on record to strike the contiguous US since Andrew in 1992, in terms of maximum sustained wind speed. At least 48 deaths were attributed to the powerful storm—33 in the US and 15 in Central America.
Devastating Losses
Insurance losses due to Michael in the United States are estimated to be at least $6 billion, and losses will continue to mount as the days and weeks go on. Can you imagine the psychological damages? And the stress on relationships?
There are myriad issues yet to arise. But for now, let's focus on the positives: the IRS extension.
"Hurricane Michael was a devastating storm for people in many different areas," IRS Commissioner Chuck Rettig said in a news release. His reasoning reflects the IRS compassion over recent events. "During this difficult time, hurricane victims should be completely focused on their families, their safety and rebuilding their lives."
Check if You Qualify
Anyone in the 15 Florida counties named by FEMA who originally applied for the extended deadline of Oct. 15 to file individual and business tax returns, now has until Feb. 28, 2019, to file their taxes.
Do you have a tax business in the southern US or do you deal with clients on Florida or other ravaged parts of the US? There will be plenty to do this year—especially if some of your clients were already behind, to begin with.
If you're located anywhere else in the country and could use support in your IRS dealings, we're here for you, too. We'll help you ride the wave all the way in so you can use your time to focus on generating more income for your business.
HOW WE CAN HELP:
Members Only Benefits
IRS Solutions Software gives you the confidence to provide services you may have been uncomfortable with in the past. Another benefit of membership is the training you get on our monthly case study calls.
Don't Miss Out! Sign up with IRS Solutions Software and Gain Access to These Informative Monthly Case Study Webinars on the 4th Thursday of Every Month at 10am-11am PDT.
By making sure your retired clients understand the new laws and are paying enough tax during the year you'll both avoid a big surprise when you least need it next tax season.
Ready to learn more? For starters, please pick up our FREE PRICING GUIDE. Act now so you're ready when your clients owe tax this year.
Not Sure How to Charge for Tax Resolution Services?
Grab a copy of our FREE Tax Resolution Pricing Guide today. Plus, get expert articles and updates that contain valuable info for tax pros sent straight to your inbox. Sign up below.