Have you ever wondered how some colleagues are posting photos in Cabo while you're struggling to find enough time to make it home for dinner? Well…the secret lies in their process. These individuals have mastered the art of predictable and repeatable systems—and you can too. With IRS Solutions Software, you can automate a huge amount of your daily operations and embrace workflows that work for you, not against you. In this article, we've rounded up the top three secret ingredients for maximizing efficiency, growing your practice, and leaving your competition in the dust.
1: Pre-Made Promotional Materials
Accountants are not marketing majors. That's why we include professional, done-for you, marketing, included with your membership. Meet the IRS Solutions Marketing Toolbox. From lead generation to new client communication, we give you everything you need to attract and retain more clients than ever before. Use these tools to ensure that your practice is constantly growing, not slowing:
Social Media Posts:

Tax deadline reminders, holiday greetings and promotional graphics for your tax resolution practice – captions and hashtags included!

Social Media Profile Covers:

Facebook and LinkedIn cover/banner images for your firm's professional profile

Marketing Workbook 2021:

A 10-step workbook that walks through building customer personas and tailoring your marketing to your unique audience

Email Graphics:

Use these banner images in E-Newsletters to advertise tax resolution

Bankruptcy Attorney Letter:

Letter for you to network with local bankruptcy attorneys

My Services Letter:

Letter to remind clients and leads of the many services you offer

Invoice Stuffer Referral Coupon:

Customize and print coupons to place in envelopes or emails

Pricing Guide 2021:

Get an idea of how professionals around the country are charging for tax resolution services so you can market your own with confidence
"I'm new to IRS Tax Resolution, so I hope to expand my knowledge. Oh.. and GREAT Marketing Materials Support!" – IRS Solutions Member, Laura C.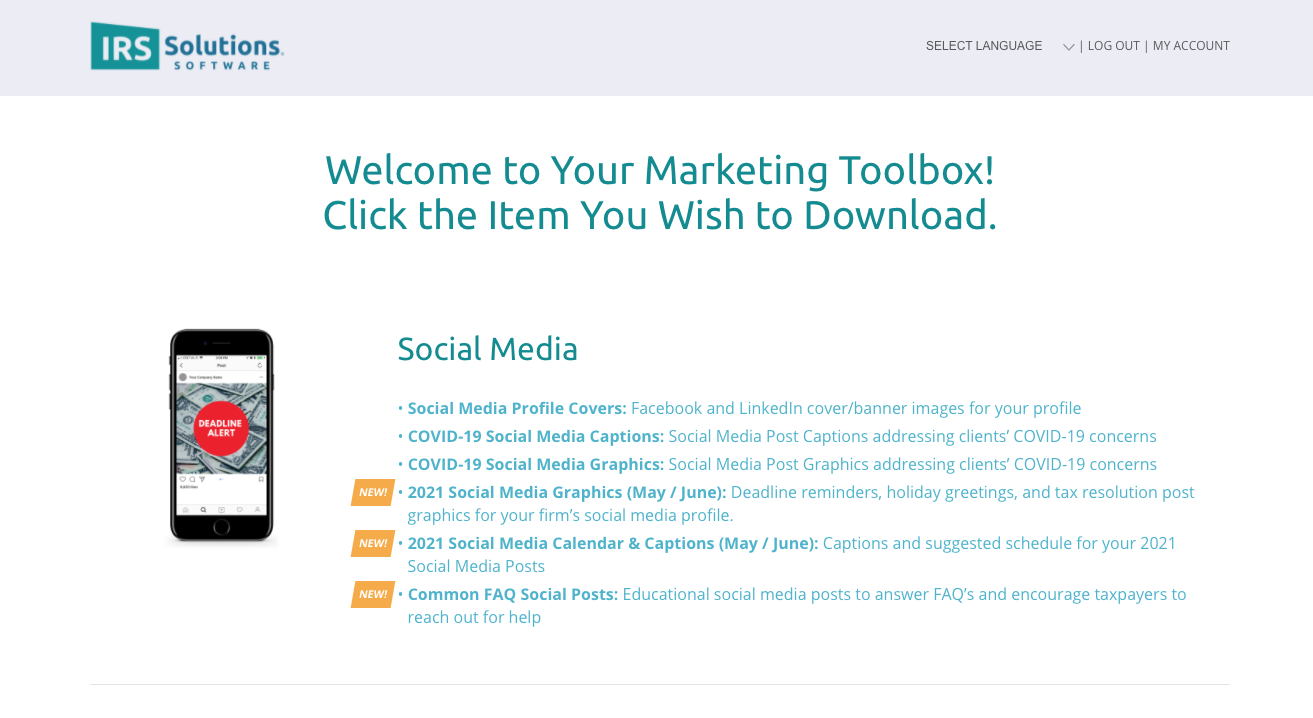 2: Predictable Case Communication
Although no two cases are exactly alike, you can (and should) prepare the ingredients for engaging with new and existing clients in advance. Don't worry—IRS Solutions takes all the hassle from case preparation with our done-for-you system of templated letters and emails. Having an arsenal of communication ready to send out for each case enables you to engage and execute faster each time. Predictable case communication gives you back your valuable time and makes sure each case starts on the right track. Plus, everything in the software is white labeled to ensure that all materials can be customized with your branding.
A Sample of Premade Email & Letter Templates Available to Members:
Tax Appointment Checklist:

Send this checklist to clients before their tax appointment

How Can I Help Infographic:

An informative one-sheet to be customized and included in a client's onboarding paperwork

Remote Filing Email:

Explains what clients can expect from "remote filing" this tax season

People First Email:

Highlights the key points of the IRS People First Initiative

Stimulus Check Email:

Reminder to file in order to receive an Economic Impact Payment

Tax Appointment Reminder Email Graphics:

Use these banner images in emails to remind clients about upcoming appointments

Tax Appointment Reminder Email:

Text to place in automated or manual appointment reminder emails

Check-In Email:

Text to place in automated or manual follow-up emails
3: Repeatable Solutions
Most important to your success is creating an efficient system that can be repeated time and time again. A reliable software system like IRS Solutions Software is the backbone of your business, guaranteeing consistent performance every step of the way. IRS Solutions' multi-functional and purposeful solutions help you move faster and more confidently—supporting you as you work to support your clients. For example, when your client brings a notice to you, just search the notice number in the software to find it within seconds and then utilize our handy Response Templates. Whether it's a CP2000 or Penalty Abatement Request, you'll have the templates you need to craft the right response every time.
"It makes choosing the right solutions for clients easier. The tools are very helpful." – IRS Solutions Member, Debbie C.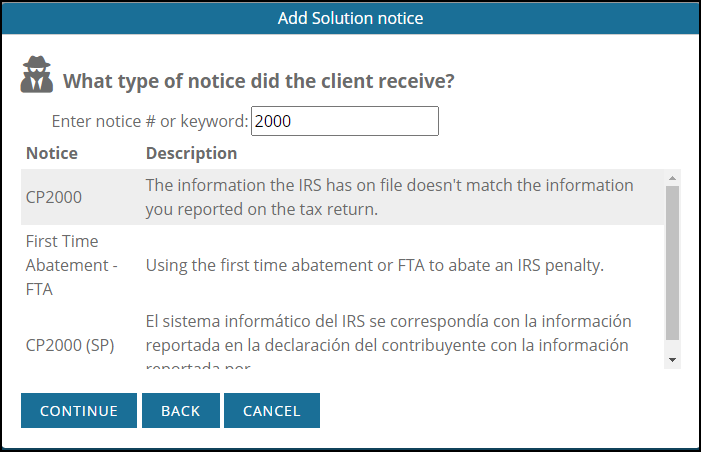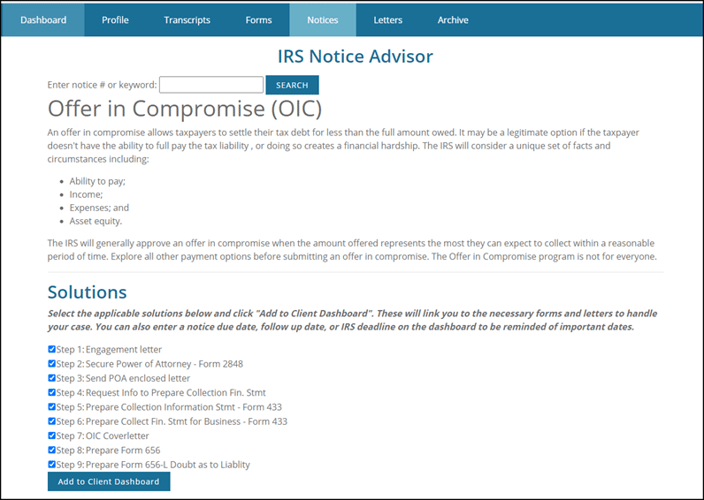 IRS Solutions Software
Locking in repeatable, efficient processes will allow you to pursue larger, more profitable clients. Our mission is to give you all the tools you need so your business can grow and thrive. From preparing for every new case to assisting you with solutions that enable you to take your business farther, we help you provide tax resolution services with confidence. Looking to become a member? join us today and see how IRS Solutions can help you get the time and profit you deserve.